Free Security ⚡️ Assessment
Powered by Alarm.com 850 Security Services connects all of the key devices in the home, providing smart, responsive automation and seamless control that you can't get from a stand-alone solution. Alarm.com automatically adjusts the system based on set rules when it detects certain activity around the home. With real-time data from the security sensors and connected devices around your home, Alarm.com can understand activity patterns and take smarter actions on your customers' behalf than standalone systems can.
Easily control lights, locks and garage doors via web and the Mobile App 
Scenes buttons give customers the ability to adjust multiple devices with a single command 
With Alarm.com's Geo-Services, customers can set automated rules based on the location of their mobile device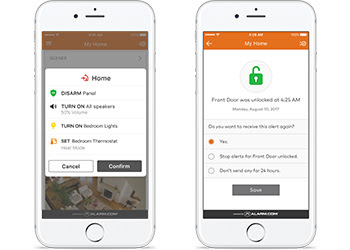 Residential Security Solutions
850 Security Services Provide best-in-class security, plus smart home automation you will love. 850 Security services systems communicate even if the phone or cable line is cut, power is out or the Internet or broadband is down. Unlike traditional systems that only alert you in an alarm event, and lets you know what's happening at your property at any time.
Dedicated cellular connection for the security system 
Arm and disarm the security system from anywhere through the Mobile App 
Create unique user codes to see who has armed or disarmed the system, and when
Provide instant verification of alarms and increased engagement through on-demand views with the Alarm.com Image Sensor
Crash & Smash keeps security systems working, even if the security panel is damaged
Wireless 2-Way Voice to talk to the emergency dispatcher directly through the panel
Using real-time local weather data, the panel will alert customers to dangerous weather conditions
24/7 Security Monitoring
Touch Screen Keypad
Window/Door Contacts
Motion Detector
Back up Battery
Fire Carbon & Flood Monitoring
Cell Guard